Dear Friend:
At the year's end, I'm impressed with both the threats to Israel and America, and also the effectiveness of the Believers. These are real opposites. Christian people — true, born-again Believers — want to lift up the ideals of this country and the Holy Land and what few other democracies with freedom of religion are out there. Muslims want to smash all those things, and that's all there is to that.
Our ministry is in a very important place right now. For one thing, we are informed about the history of Islam, its various takeovers, and its utter hostility to the Judeo-Christian world. We have operated businesses in Muslim areas for more than thirty years. We have interviewed spokespeople for their horrific "spiritual" ideals. If we were not Believers, we would be very afraid of them.
The main fear comes from the bone-headed gullibility of a world that tries to be "sensitive" to Muslim feelings, while the Muslims are scheming behind the scenes as they overwhelm one nation after another.
A news article entitled "CAIR (Council on American-Islamic Relations) Trains FBI in 'Sensitivity'" came from WorldNetDaily.com this morning. It details what suckers we Americans are. We are exposing our federal police force to disgusting propaganda called by FBI spokesman Ed Cogswell "awareness training relative to cultural issues." All that is to say that our ministry is alert to these insidious efforts and in a position to at least sound an alarm.
And, in addition to that problem, the mafia, the drug dealers and the United Nations are still active in New York City. Our ministry cannot help as much with those problems, but we mean to shine what light we can on them.
We are also informed about the liberal churches, including the revolting Presbyterian USA denomination, which has divested from Israel. We will be printing some United Methodist statements, referred to us by our viewers, in upcoming editions of the Levitt Letter. As to the Episcopalians, Lutherans, etc., etc., they are in the same unscriptural club, being prepared to serve the Antichrist.
On the bright side, this has been an extremely significant year for our ministry. Our ambitious outreach on the PAX cable network has been a total success, thanks to your support. Imagine a ministry with only twelve employees buying airtime to broadcast to a potential fifty million viewers! The rule in the TV industry is that whoever buys the time must keep paying for it for nearly two years before they can dream of breaking even.
Well, our ministry, with your help, will break even on PAX this month in only one year! We thank you, and some of those fifty million souls will thank you for all eternity.
I don't mean to go on in this year-end letter other than to remind you that you're backing a winner in God's Kingdom! We covet your prayers, your letters, your recommendations of our ministry to friends, and, of course, your gifts. As I always say, if each person would simply do as the Lord tells them to do in giving to this ministry, we will have no problem taking on even larger networks as we go along. That would be a great blessing in so many ways.
Another painless way to help us would be to have Sandra and me stop by your church on our upcoming tour of Florida and the southeastern states in January and February. We stop at any church for a love offering and we're delighted to speak to God's people and answer their questions. Personal appearances have turned out to be a very big help to this ministry, even if they're only to tell the folks when and where to tune in.
And don't forget the March tour. Avail yourself of one of the last opportunities to see Israel in this lifetime. The Lord will be taking us all on a thousand-year tour, to say nothing of eternal life in the New Jerusalem. Check it out before you begin that endless residency there! The Deluxe Tour of Israel is scheduled for March 13–23, and the Grand Petra Tour to Israel and Petra for March 13–27. Call Tony immediately at 214-696-9760 during business hours or 1-800-WONDERS (1-800-966-3377) anytime.
And again, always remember to pray for the peace of Jerusalem!
Your Messenger,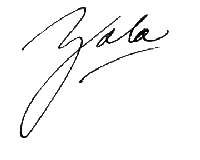 P.S. Please [fill out the online form] to join our Monthly Gift Program. Automating your giving this way really boosts our efficiency.
---
From: Leonie Giles
Sent: Monday, December 6, 2004 11:35 AM
Subject: Charity Navigator 4 Star Link
December 6, 2004
Dear Mark Levitt:
We assume your organization has received Trent Stamp's November 29th letter informing you that Zola Levitt Ministries has received a 4-star rating from Charity Navigator, America's largest independent evaluator of charities.
Charity Navigator (http://www.CharityNavigator.org) salutes your charitable efforts. Receiving four out of a possible four stars indicates that your organization excels, as compared to other charities in America, in successfully managing the finances of your organization in an efficient and effective manner. This rise in your rating is an exceptional feat, especially given the economic challenges many charities have had to face in the last year.
Please find enclosed in this email a link that will bring you directly to Zola Levitt Ministries's rating page as it appears on our website. We have also included a link to our site where you can choose a 4-star charity logo. Both of these links should be passed along to your resident webmaster for inclusion on your website (e.g. a place where you ask for donations). By posting this link on your website, your givers have the ability to instantly access this unbiased and objective ratings data.
For the purpose of our own record keeping, we would greatly appreciate you letting us know if you decide to post this link on your website. Please email me at charitynavigator.org and include your charity's name as the subject heading of the email. Should you have further questions, feel free to email me or call me. Thank you.
Once again, congratulations on your 4-star rating from Charity Navigator.
Sincerely,
Leonie Giles
Program Analyst
_______________________________
C H A R I T Y N A V I G A T O R
America's Largest Charity Evaluator
Zola Levitt Ministries